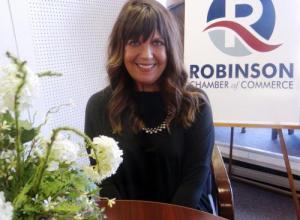 Lisa Schaefer
Robinson Chamber of Commerce
Lisa Schaefer is passionate about serving her community. Prior to becoming Executive Director of the Robinson Chamber of Commerce in 2018, she served in many capacities, including Director of Marketing of the Southwest Indiana Chamber and Director of Marketing of the Evansville Philharmonic Orchestra. She earned a BS in Communications as well as a BS in Art from the University of Southern Indiana.
Lisa joined the Crawford County United Way board of directors in 2021 and is an active member of the Community Projects committee. In addition to United Way, she is a member and past president of the Crawford County Business Women and currently serves on the ILLINOISouth Tourism board of directors. 
She shares a home in Robinson with her significant other, Scott Sparks, and together they have four amazing sons. Outside of her career, Lisa enjoys spending time with family, working in her flower garden, shopping local and taking walks in the park.